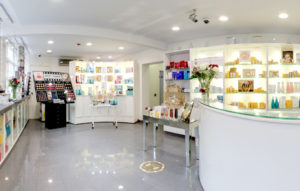 The perfect present for someone special. Ideal for Birthdays, Christmas, Anniversaries etc. Our Gift Vouchers can be tailored to suit you, whether you prefer to purchase treatments, monetary value or set packages.
Our 12 treatment rooms are spread over three floors, each individually air-conditioned with a hint of pastel blues, greys and pinks. Our state-of-the-the-art electric couches ensure a perfect comfortable posture for you to enjoy your treatments.
We are fully qualified Beauty Therapists with recognised diplomas and Femi is also a member of the British Association of Beauty Therapists and Cosmetologists which licenses us to conduct all aspects of Beauty Therapy Treatments.